Meine allerersten Holiwoodnights 🙂 Insgesamt mein dritter Besuch in Holiday World. Ich war am meisten gespannt auf zwei Sachen:
Der Tag verlief ein bisschen anders als geplant. Auf dem Weg nach HW hatten wir  unverschuldet einen Autounfall, was dazu führte, dass wir unseren Mietwagen wechseln mussten. Dies kostete viel Zeit und war nur am Flughafen möglich, was uns nach Louisville führte. Wenn man eh schon mal da ist….kann man auch gleich nach Kentucky Kingdom. Das war eigentlich erst einen Tag später geplant, aber darauf könnte man ja dann morgen verzichten und so Zeit sparen. Nach schnellem Counten wurde die Reise fortgesetzt.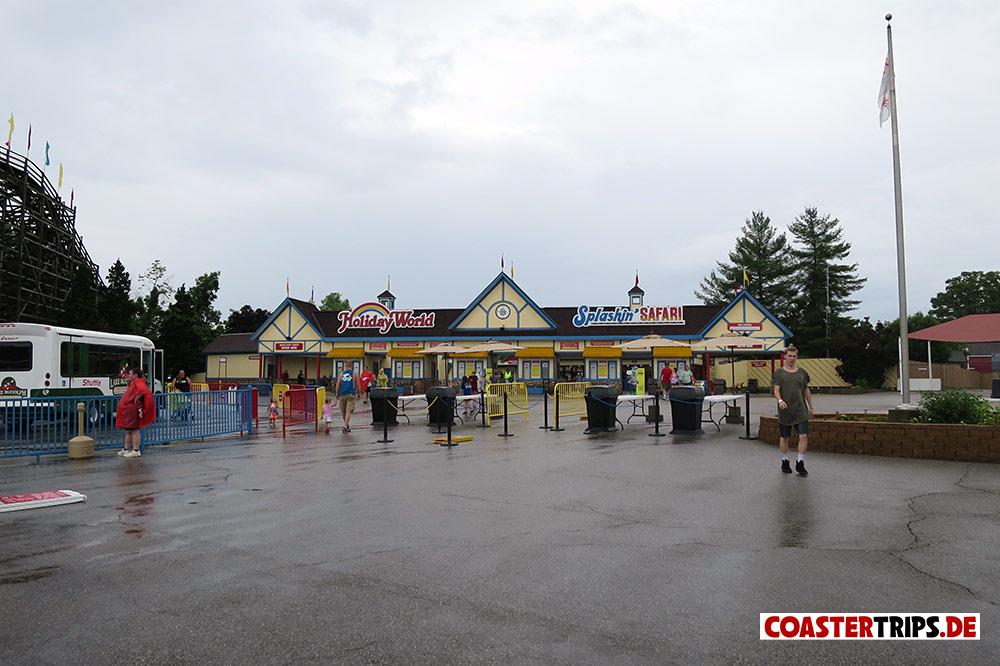 In Holiday World regnete und regnete es. Nunja Regen allein macht ja noch nix, außerdem hab ich eh schon bezahlt, also rein da. Vor dem Walkback blieb noch etwas Zeit und so ging es erstmal noch zu Raven, Legend und Voyage. Nach der Fahrt Voyage verschlechterte sich allerdings das Regenwetter zu einem heftigen Gewitter mit Hagel.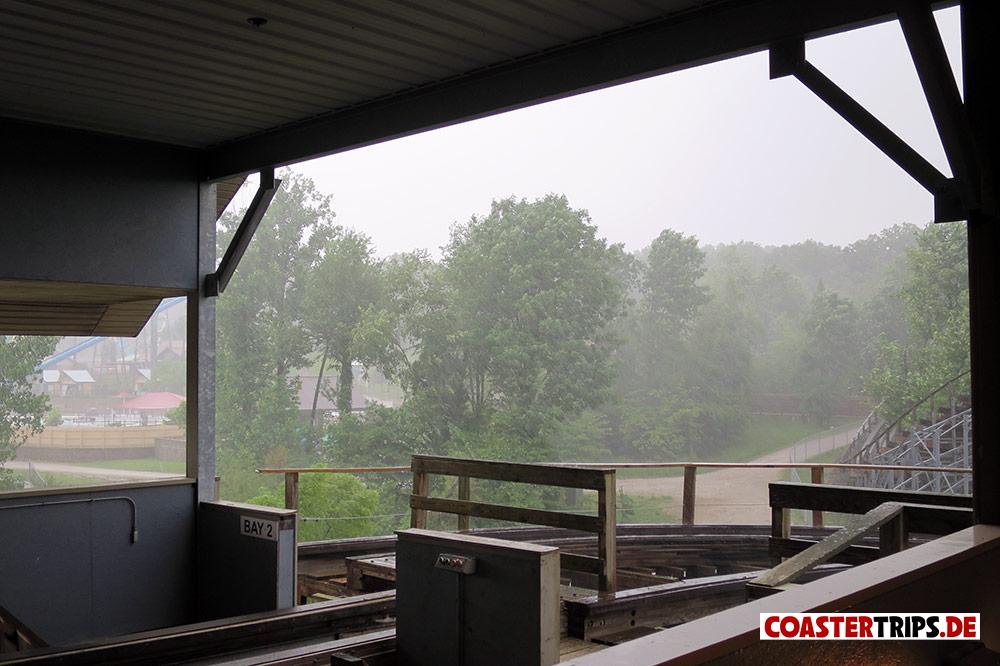 Der Walkbacktermin wurde nach hinten verschoben. Im Cafe bei Voyage warteten alle. Glücklicherweise klarte später der Himmel wieder auf uns es war bestes Fotowetter. Daran hatte ich überhaupt nicht mehr geglaubt. Vor lauter guten Fotomöglichkeiten wusste man gar nicht, wo man sich hinstellen soll. Wobei die Möglichkeiten bei Thunderbird weitaus größer waren als bei Voyage. Nach den ganzen Anstrengungen gab es Zuckerwatte, Popcorn und Getränke frei Haus. Am späteren Abend war noch gemeinsames Abendessen mit stiller Versteigerung. Für 26$ hab ich mir einen Surprise Bag Raven ersteigert. Drin war folgendes: ein gebrauchter Nagel von Raven, Schmieröl, eine Fahne von ZOOMbabwe und ein Plastik Frosch.
Jetzt aber mal los hier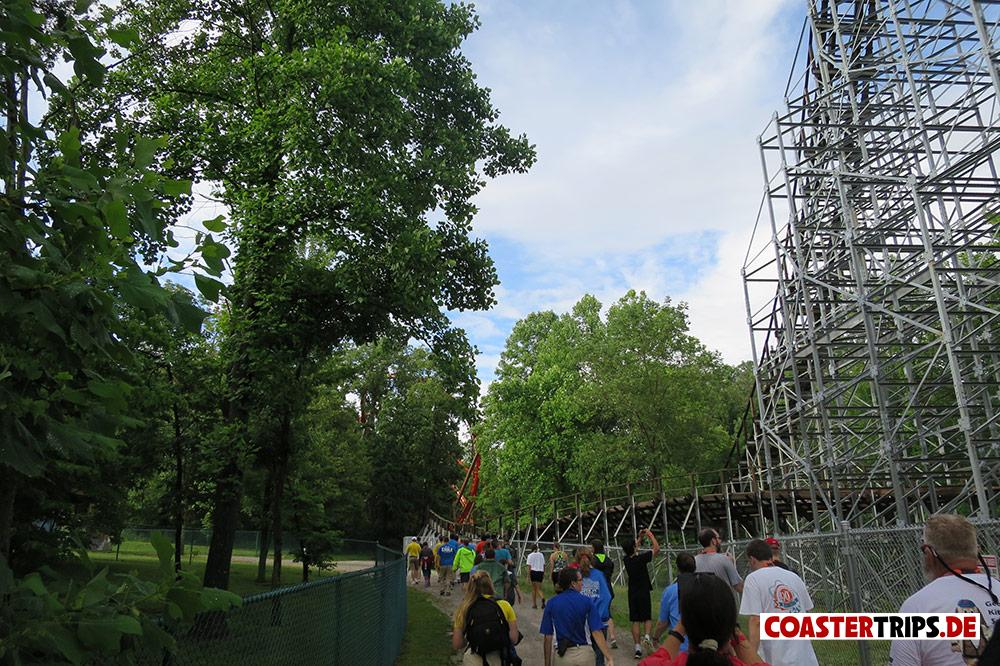 The Voyage – Walkback
Thunderbird – Walkback
Weitere Bilder des Tages
Zu guter letzt noch kurz ein paar Worte zu den Bahnen. Thunderbird kannte ich zuvor noch nicht. Die Bahn finde ich richtig klasse. Je später der Abend, desto besser. Es ist schon geil im Dunkeln da durch die Gegend zu fliegen. Besonders im Wald sieht man kaum noch was. Somit hat Thunderbird jetzt Wild Eagle als besten Wing Coaster abgelöst. Launch + Dunkel + Geschwindigkeit

The Voyage fand ich bisher nie so gut. Ich hab mich immer nach dem Ende der Fahrt gesehnt und das Gerappel halt ertragen. Mittlerweile weiß ich aber, dass auch diese Bahn Spaß machen kann. Alles eine Frage des richtigen Sitzes zur richtigen Uhrzeit. Ich bevorzuge den Tag über irgendwo in der Mitte zu fahren und nachts in der dritten Reihe.
Die offizielle Homepage