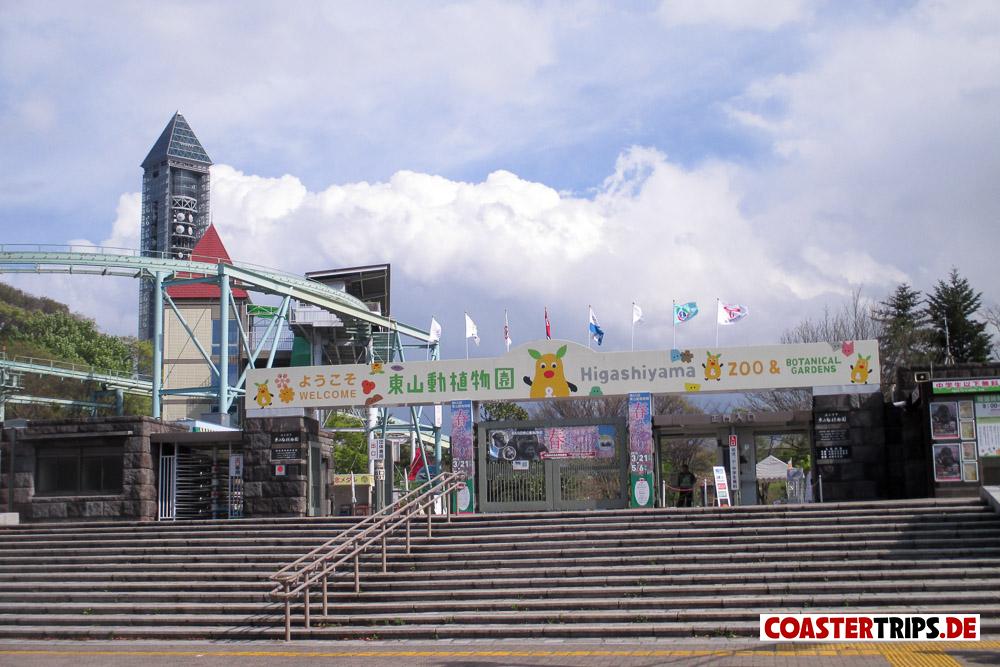 Der Higashiyama Zoo & Botanical Garden war eigentlich nicht mit eingeplant. Da wir aber für den Hirakata Park nicht den ganzen Tag brauchten, haben wir noch nach weiteren Parks gesucht und sind auf den Zoo aufmerksam geworden. Mit Regionalzug und Shinkansen ging es von Hirakatakoen nach Higashiyama Koen.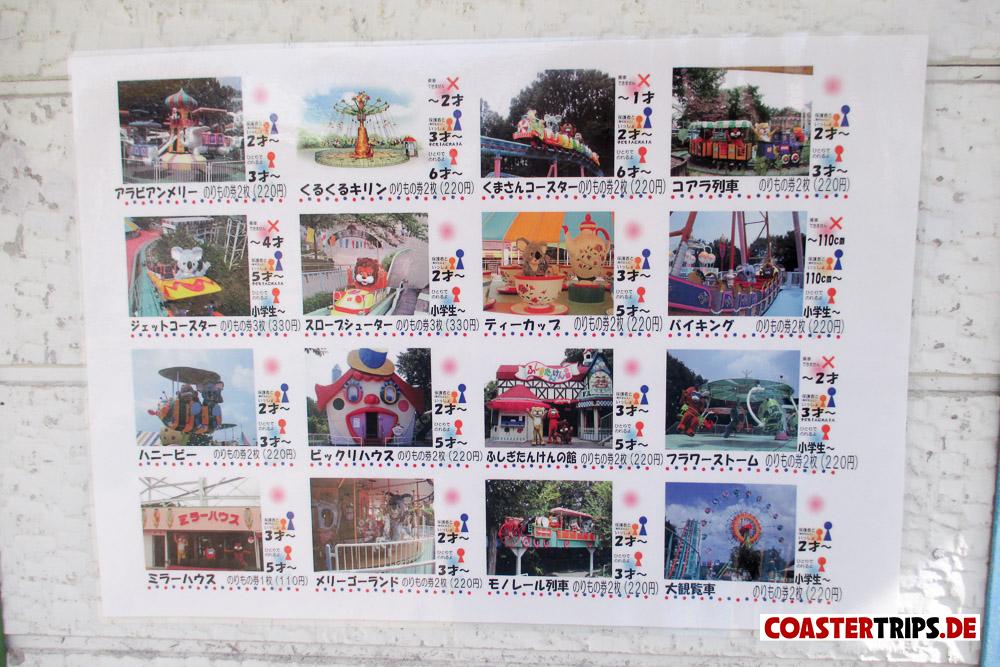 Hier ist pay per ride und so suchten wir die 3 Achterbahnen und die entsprechenden Preise (330Yen, 330 Yen, 220 Yen). Mit den Bildern war es dann auch einfacher die Tickets zu kaufen.
Als erstes fuhren wir mit dem Jet Coaster.  Ich kann mich leider nicht mehr erinnern, wie ich die Bahn ganz genau fand. Ich glaube aber nicht ganz so schlecht, sonst wüsste ich das noch. Ist ja jetzt auch schon 5 Jahre her.
Als nächstes fuhren wir mit dem Bear Coaster. Bei Powered Coastern ist das einfacher, die sind meistens gut.  Dieser hier auch, besonders in Erinnerung ist mir hier aber die Dame, die die Bahn bediente. Sie bot sich dann auch als Fotografin an und machte ein Bild von uns.
Slope Shooter
Eine "Achterbahn", der etwas anderen Art. Der Slope Shooter zählt zu den Side Friction Bahnen. Diese haben nur zwei statt der heute üblichen 3 Rädersets. Das Upstop Wheel fehlt hier noch. Derzeit gibt es auch nur noch 7 weitere Bahnen dieser Art. Die Hochschaubahn im Prater, Rutschebanen in Bakken und Tivoli Gardens, Vuoristorata in Linnanmäki, Roller Coaster im Great Yarmouth Pleasure Beach, Tyrolean Tubtwist im Joyland Childrens Fun Park und Leap the Dips im Lakemont Park, wenn er denn wieder auf macht.
Nach dem Lifthill fährt man in einer vorgegeben Betonwanne bis zum Ende der Bahn. Ab und an stößt man auch gegen den Rand. Es ist auf jeden Fall mal etwas anderes. Von der Fahrt her lässt es sich am ehesten mit dem Tyrolean Tubtwist vergleichen, wobei ich diesen lustiger fand, da sich der Wagen während der Fahrt dreht. Aller anderen sind bis auf Leap the Dips als Holzachterbahnen mit Bremser konstruiert worden. Dieser kann die Geschwindigkeit während der Fahrt regulieren.
Weitere Bilder vom Zoo
Die offizielle Homepage