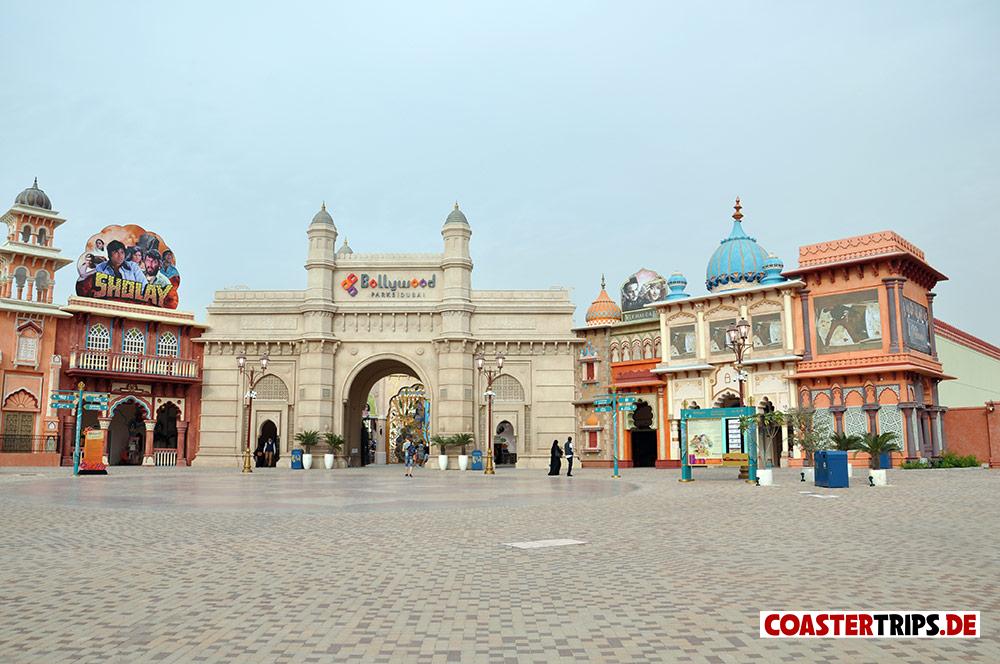 Ein weiterer Park der Dubai Parks & Resorts Kette. Hier gibt es allerdings keine Achterbahnen, dafür umso mehr Shows. Für Bollywood Liebhaber ist der Park auf jeden Fall einen Besuch wert. Neben den ganzen Shows gibt es natürlich auch noch ein paar Attraktionen. Bis auf "Don – The Chase" waren alle geöffnet. In Motiongate wurden von unserem Guide besonders zwei angepriesen: Krrish und Lagaan.
Lagaan – Thrill of victory
Ein Simulator Ride von CJ 4DPlex (Simuline).  Man ist ein Cricketball in einer Art Vergnügungspark. Die Szenen wechseln immer von einer Achterbahnfahrt hin zu weiterein Abschlägen, bevor der Ball dann wieder irgendwie auf die Schiene kommt. Der Lagaan Themenbereich bietet neben dem Simulator auch noch ein Riesenrad und ein Karussell.
Sholay – The Hunt for Gabbar Singh
Als Deutscher ist die Preshow ein bisschen anstößig, da die Person doch sehr stark einer gewissen anderen ähnelt. In Indien aber ist das eine sehr bekannte Figur aus einem Film, der zwar so aussehen will, aber nur Quatsch macht. Die Fahrt an sich ist ein Shooting Darkride und man schießt auf Bösewichte, die in der Gang von Gabbar Singh sind und auf Früchte. Auch hier wieder ist der Zusammenhang zu vorhin doch sehr fragwürdig.
Ra One
Ein nasse 3 D Simulation, wobei die Sitze eigentlich nur vor und zurück kippen. Von der Show war ich nicht wirklich begeistert. Prinzipiell geht es um eine neue Art des Gamings, wobei man den Controller im Handgelenk hat.
Krrish
Ein Flying Theater von Dynamic Structures. Zuerst ist es ein bisschen so wie Soarin over India, aber es wird dann schnell zu einem Abenteuer mit Krrish. Wenn man den Superhelden kennt, ist es nehm ich an mal besser. So konnte ich damit nicht viel anfangen und hätte mich über ein reines "Soarin" mehr gefreut. Trotzdem war es gut gemacht. Insgesamt gibt es 3 Reihen mit je 12 Sitzplätzen.
Dabbang
Eine ziemlich laute Show. Zuerst wird getanzt, dann wird die Tänzerin gefangen genommen und vom Helden im Kampf am Ende gerettet und alle lieben sich. Eine typische Bollywood Szene eben. Die Show ist abwechslungsreich und bietet viele Soundeffekte. Leider gibt es dazu keine passende visuellen Effekte. So hört man zwar eine Explosion, sieht aber rein gar nichts davon. Hier ist also noch Luft nach oben.
Noch zwei Bilder von zwei anderen Shows und der Showplan
Weitere Bilder aus Bollywood. Hier kann man sehr schön die Liebe zum Detail und die schöne Thematierung erkennen. Auch wenn ich noch nie in Indien war, bot mir Bollywood das, was ich mir unter Indien vorstelle. Alles war bunt, andauernd war irgendwo eine Show, es war immer was los.
Die offizielle Homepage